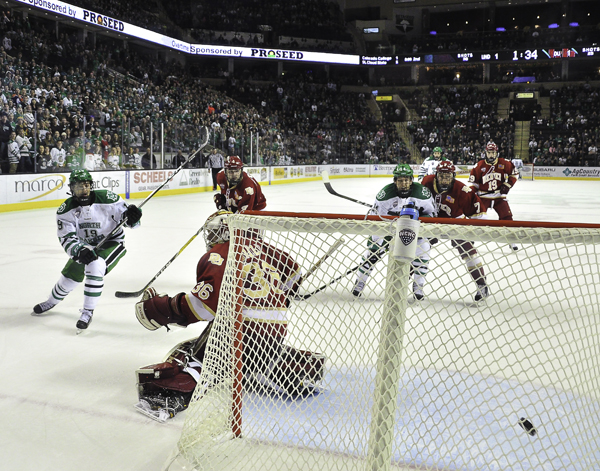 Dakota Student File Photo
This weekend is sure to bring high tension and good hockey.
The University of North Dakota, 2016 national champions, go head-to-head with rival and 2017 national champions Denver. After splitting the away series with Denver in November, the home series will be an opportunity to prove who belongs in the running for a Frozen Four bid this season.
UND is coming off a tough weekend at the University of Minnesota Duluth, who swept UND both nights.
Denver, on the other hand, is in high spirits after shutting out Omaha both nights last weekend. It was the first time Denver had shut out and swept their opponent since October 2013.
In conference play, UND has a record of 6-6-2 and Denver is 8-4-2.
Before last weekend, Denver was ranked fifth nationally and UND ranked seventh. After Denver's sweep and UND being swept, Denver rose to number four in the NCAA and UND sunk to eleventh.
It's likely that the series this weekend will come down to special teams, the power play and penalty kill for both teams.
UND captain Austin Poganski spoke highly of Denver's power play after the second game of the Duluth series.
"With the talent of Denver, they definitely have one of the best power plays in the nation," Poganski said.
And it showed in the games against Omaha. Denver was able to convert on three of five power plays on Friday night. However, Denver was not without penalties. The team took nine penalties over the weekend.
Denver head coach Jim Montgomery is confident going into this weekend.
"We've been competing at a high level consistently now for the last five games," Montgomery said. "We just have to stick to the process and not get comfortable. I don't see our players getting comfortable when we head to North Dakota."
The opposite problem plagued UND over the weekend with Duluth. UND was not able to convert on the power play opportunities they had and penalties ended up costing the team according to UND head coach Brad Berry after Saturday's game.
"Penalties. You get one penalty and kill it but when you take two or three in a row, that's when it hurts," Berry said. "It was the same thing last night. You have got to play 60 minutes. 20 minutes isn't good enough."
Berry referred to the sweep as a small bump in the road that the team has to move past.
Poganski looked at the weekend in Duluth as an opportunity to learn from small mistakes. He said fixing the little things in practice could lead to a stronger team coming out against Denver.
"(In practice) we'll build a little momentum into this next weekend against Denver," Poganski said. "We just need to be sharper on the details and have everyone on the same page."
The UND-Denver rivalry is one that is seemingly unaffected by rankings or statistics. No matter where either team stands before the series, it's always a battle down to the last second of every game. UND forward Nick Jones put it best.
"It's a mentality," Jones said. "We'll be ready to go."
Madison Overby is a sports writer for Dakota Student. She can be reached at [email protected]