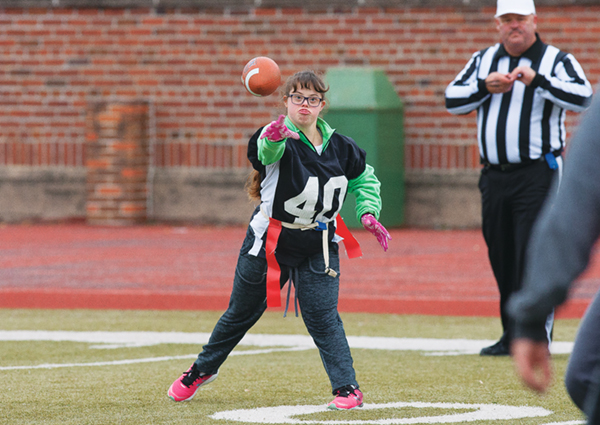 Nick Nelson
On Saturday afternoon members of the UND Special Olympics Club, volunteers and students with special needs ventured out to the old football stadium for a flag football tournament. Athletes competing were traveling teams from North Dakota State University, Minot State University, the University of North Dakota and volunteers from the community. The teams were unified teams, pairing students with special needs with community volunteers. Screams of excitement and encouragement filled the air as athletes encouraged one another off and on the field.
Erica Tamminen has been with the Special Olympics Club for four years. When she first walked onto the UND campus, she knew she wanted to partake in a club that was built on purpose.
"Freshman year I knew that I wanted to partake in a club here at UND," Tamminen said. "I've always had a passion for working with students with special needs. The students in this club are awesome and filled with so much love. Working with these students is incredibly rewarding."
Flag football may seem like a fun event, it requires the time of volunteers to make this event work. In order to have a unified team, volunteers are needed to come spend an afternoon playing flag football with the students who have signed up to participate in the tournament. Students from all majors can be found on the field, including UND athletes.
"There are at least 15- 20 UND students who are active in the Special Olympics club and we have many volunteers from other student organizations, fraternities and clubs come and volunteer with us for our events. In total, we have about 50 students," Tamminen said.
Flag football is not the only sporting event that the club hosts. Throughout the year the Special Olympics Club hosts soccer, rowing, volleyball, downhill skiing, flag football and basketball tournaments. These events are open to individuals with special needs who are 18-30 years old. These sporting events are also partnered with UND students to form unified teams. At the end of the games, there is an awards ceremony for the athletes who participated. For individuals with special needs, these events create new relationships with UND students.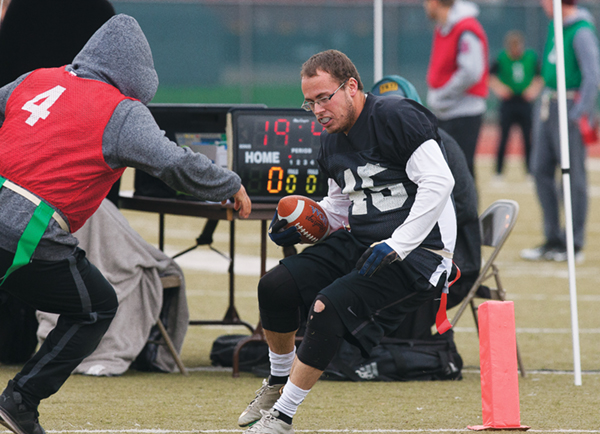 David Dahlgren is an athlete who played on the UND white team.
"I've been involved in special olympics since I was eight," Dahlgren said.  "This is my first time playing flag football. This year, I decided to play flag football because I have friends playing flag football. I love playing sports with other UND students."
Is the College Special Olympics Club the same as the Special Olympics Club in the community?
"This is the College Special Olympics Club and we are different than the Special Olympics Clubs out in the community. The mission of the College Special Olympics is to integrate students who have intellectual disabilities with UND students. Our goal is to integrate athletes who are 13-30 years old with students to help build relationships with UND students and community members with special needs," Emma Ilbedson said.
While the group may focus on flag football in the fall, the group will be attending a national tournament in Seattle, Washington next year. This organization is always looking for committed students to come volunteer. If you are interested in learning more about the Special Olympics Club, visit the student involvement website and sign up for email notifications about upcoming events.
Devon Abler is a features writer for Dakota Student. She can be reached at [email protected]