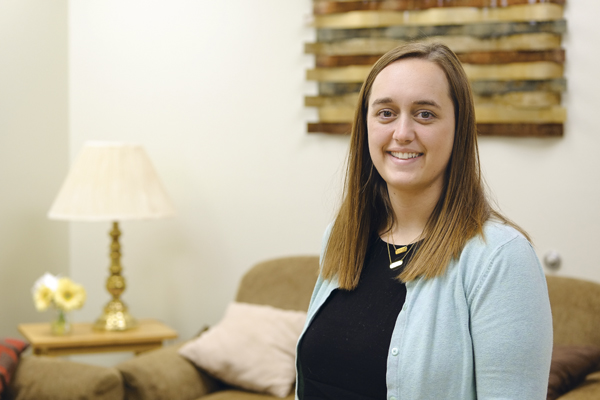 Nick Nelson
Like many institutions on campus, the Women's Center's is going through some changes following the upheaval of the last academic year.
Associate Vice President and Dean of Students Cara Halgren attributes the Women Center's particular evolution to the retirement of two key staff members at the end of spring semester, including director Kay Mendick.
These former staff members left a strong legacy. When rearranging positions and responsibilities, the administration had to think about "how we build on that work in a way that makes sense for students right now," Halgren said.
The key additions to the new Women's Center are Amber Flynn, Coordinator for Sexual Respect and Violence Prevention, and a Community Violence Intervention Center advocate known only as "Jordan" for anonymity purposes.
Though both have worked in these roles on campus before this semester and are simply being moved to offices in the Women's Center, this consolidation is important to the center's overall strategy for the next several years.
"My role on campus is to educate students on primary prevention of (sexual) violence, so trying to stop violence before it happens," Flynn said.
Historically, the Women's Center's role in addressing sexual violence on campus has been to "provide advocacy for students who either had reported to the institution and just needed support or someone to just give them resources," Flynn said.
Therefore, it made sense for someone working as an educational resource on this subject to be working in the same office space.
Just as important to the mission of creating one space for student resources is the addition of Jordan, who students whom have experienced sexual violence can speak to confidentially. Jordan is not obligated to report incidents to authorities, unlike staff members of the university.
"Previously, Jordan was – well, the person before Jordan was in O'Kelly Hall in the basement and then they were in Columbia Hall, so that position, while private, was really kind of off the beaten path and maybe wasn't as accessible for students," Flynn said.
Accessibility has been a major concern in reorganizing the center. Besides offering streamlined services, they want to offer a welcoming, private space that students are aware that they can take advantage of. Previously, the center was located in its own building on Hamline St., but it was taken offline in a round of demolitions by the university last year.
Diane Newberry is the news editor for Dakota Student. She can be reached at  [email protected]