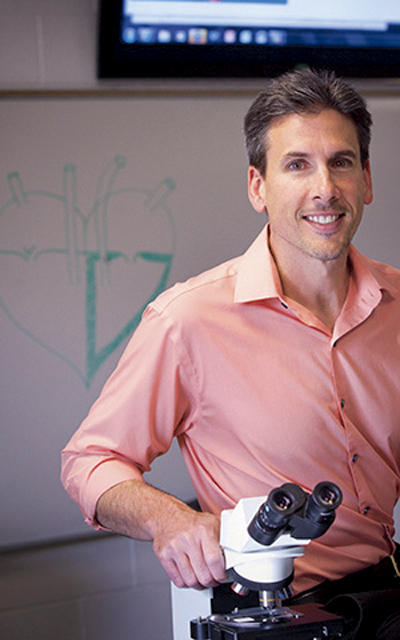 Dakota Student / Submitted
When one thinks about the places they might end up in life, North Dakota may not seem like one of those places. As great as this state may be to so many people, it's not one that many put on their vacation list. But for many people at the University of North Dakota, it can be a surprising place. For Jeffrey Carmichael, it was exactly what he needed.
All students eventually have to graduate and begin their job hunt. As a young man in graduate school, Carmichael had finally reached that point. The process of looking at jobs, applying and then looking again was brutal. Eventually, the right opportunity came along.
"It was a case of looking at the right time, in the right place," Carmichael said.
Amidst all the available jobs, Carmichael found the job that called him. The University of North Dakota was looking for a professor who could oversee the Introductory Biology program to expand the area and teach many of the classes in the department. They also wanted someone with a specialty in plant biology: Carmichael's exact field of study.
He attended Slippery Rock University near Pittsburgh where grew up. In his time there, he made a lot of memories.
"I went to school there because I often went camping in that region as a child," Carmichael said. "I knew the area well and had very fond memories of Slippery Rock.  It might not have been the best reason to choose a college, but it worked out well."
It was there he met his wife, who went to a nearby college. He lived with the male cheerleading team, which he claimed was a lot of fun. Every weekend friends from all over the area would come over to hang out. He described it as a carefree time, some of the best years of his life. He graduated with a Bachelor's in Biology.
From there, he attended the University of Georgia along with his wife. There, he earned a PhD in plant biology.
"It was the perfect fit," Carmichael said. "I had known since my first introductory biology course that I wanted to teach at the college level."
When Carmichael entered college, just like many students, he had little to no idea of what he wanted to do after. He said that he was guided by a fear of recognizing that without a solid education, he would probably end up with a very unfulfilling career. However, he had seen that his professors seemed to have really good lives and truly enjoyed interacting with students. He clicked well with his general biology professor. From then on, he took every opportunity to teach as much as possible. He knew he wanted to teach biology, and that was the path he took.
"I took the path less traveled," Carmichael said. "While all of my classmates were competing for relatively few spots in medical school, I took an interest in understanding how plants work. No one else in my cohort was at all interested in plants."
Ever since he completed his graduate degree from the University of Georgia, he has been at UND. He has enjoyed virtually every bit of it. He loves meeting new students and to have old ones come back and share stories of success.
In his first semester, he got a call from a graduate teacher's assistant at 9:30 p.m. Never a good sign. The TA was in the Emergency Room, with two students who had hurt themselves during an evening lab. Ever since then, Carmichael has had a good understanding of the responsibility he has and makes the lab a safe environment.
He stressed that he cares so much about students. He loves to interact and influence their lives. He agonizes over the final grades in his classes.
"One grade can impact the trajectory of a student's entire academic career," Carmichael said. "I do everything I can to help students perform at the highest level possible in my classes.  I teach hundreds of students every year and, with so many students, there are always a few who are just below the cutoff for a particular grade. I feel for them – I know it can be very difficult to accept, but it is often simply unavoidable."
Cameron Cloyd is a staff writer for Dakota Student. He can be reached at [email protected]