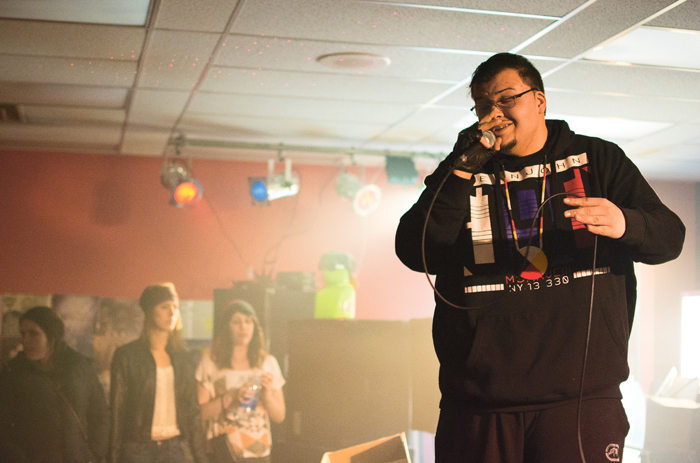 Dakota Student / Nicholas Nelson
As you walk through the campus of the University of North Dakota you witness many centers and groups to be a part of. With all these different interests there is usually something that one will fancy.
However, there is very little clubs that have to do with music listening, vinyl and comics. Most schools have a radio station that you can broadcast from or a record listening club. As much as I have enjoyed my time here at UND that was always missing.
Although, there is this place right outside of campus to get your fill in. This place is called "Ojata Records and Comics" or "Dogmahal."
The place is a gem in a town full of chain stores and restaurants. This store is an authentic one of a kind shop that should be visited by every student, new or old.
The store is located at the crossing of Washington and University. For those who don't know the town well, it is the intersection right before the original Red Pepper.
But if you're not feeling Mexican food why not pop in for a gourmet hot dog? That is right, this place specializes in making the craziest dogs you'll see in miles. They find the biggest hot dog and proceed to put things from mac and cheese to Cheetos to baked bean and much more. Such as their Thanksgiving dog, which was a Thanksgiving feast on a hot dog. Students get a discount here so make sure to get in there.
If you're still not sold there are so many things this place offers. They have used vinyl to add or start your vinyl record collection.
Their music there is just one genre either, the amount of variety they have in records is remarkable. Plus all of them are fairly priced.
The comic book section is three giant rows of everything you could ever wish for. They also have a small area where they sell Star Trek and Star Wars action figure.
On the other side of the store is where they keep CDs. A whole wall of them to be exact. The variety is the same as the vinyl, multiple genres and an endless supply of them.
Another great thing about Ojata is that it's one of the only places in town to see live local bands. In the back of the store they have a stage set and book groups of bands have gigs.  So if you are looking to start a band and play somewhere this is a great place to play and make connections.
The final thing about this fantastic store is that they participates in "Record Store Day" which is a one-day event near the end of April. During this time bands put out limited edition vinyl.
After experiencing this event for many years I would say that Ojata records does the day justice while providing a fun atmosphere
I would highly suggest that everyone that steps foot on this campus makes a trip to Ojata Records.
Cameron Campbell is a staff writer for   The Dakota Student. He can be reached at [email protected]