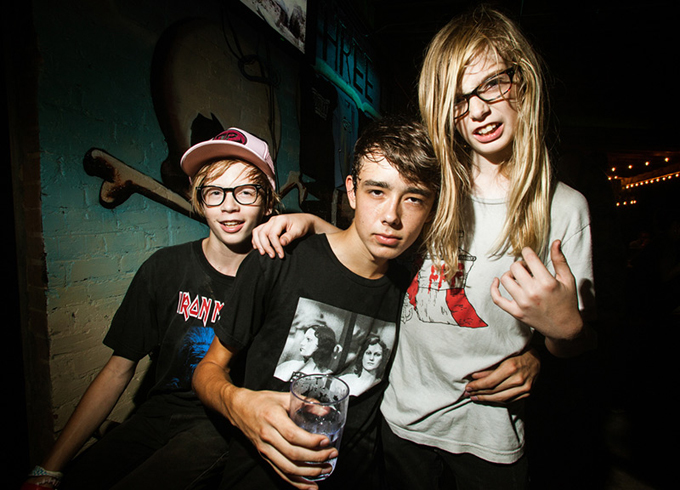 Photo: Karlo X Ramos
As everyone in St. Paul stepped outside on Monday, April 10, they noticed that the temperature had gone down forty degrees from the day before and was now just below freezing.
The air was cold and the sky spit rain and snow. For some odd reason,  I seem to be cursed. Every time I step foot in the Amsterdam Bar and Grill, it always seems to snow.
I figured it would be coming, but it was going to be worth it. The band I was seeing that night was a band out of Austin, Texas, called Residual Kid. The band is comprised of rather young members most of which just graduated high school.
The band lucked out a few years back and played the right stage at "South by Southwest" and scored a record deal with "Sire Records." A record company that houses some of my favorite bands such as The Ramones and The Replacements.
The opening band was Tony Peachka. An odd name for a band comprised of all women. The band had the same vibe as a punk band from the 90s called Bikini Kill.
This genre has a massively influenced punk background with some beach swing shoved in there somewhere. The vocals are something unlike any other type of music.
The point is to scream and crack your voice. Not in a bad way, but in a certain way that fits the style of music. The lyrics also aren't supposed to be "Shakespearean" in any way. They are there to convey a simple message and or a certain attitude. Needless to say, these girls delivered some great "Bikini Kill" music (with their own twists of course).
Finally it was time for Residual Kid. Unfortunately, there was probably just over a dozen people at the show. But that didn't matter to them or to us in the crowd. They came right out the door kickin with a song I did not know.
As the show went on it only got better. Their influences screamed through every song. Influences such as Manchester Orchestra, The Misfits and of course Nirvana.
In the middle of their set they played what was my favorite song of the night "Scentless Princess". The song has a very heavy "In Bloom" by Nirvana vibe to it. The heavy elongated flat notes makes you full of energy and ready to mosh.
Their closing song was the most nuts I have ever seen a band go in front of that small of crowd. I guess that means they are doing what they want and enjoy doing it. The last song was called "Texas Salsa."
According to the band, it's nothing like "MN" salsa;  it's more like Texas salsa. At the end of the song, guitars were being swung around and smashed against amps. Not hard enough to break anything but hard enough to make the audience members freak out in excitement.
Residual Kid is definitely a band to keep your eye out for in the next few years.
Cameron Campbell is a staff writer for   The Dakota Student. He can be reached at  [email protected]