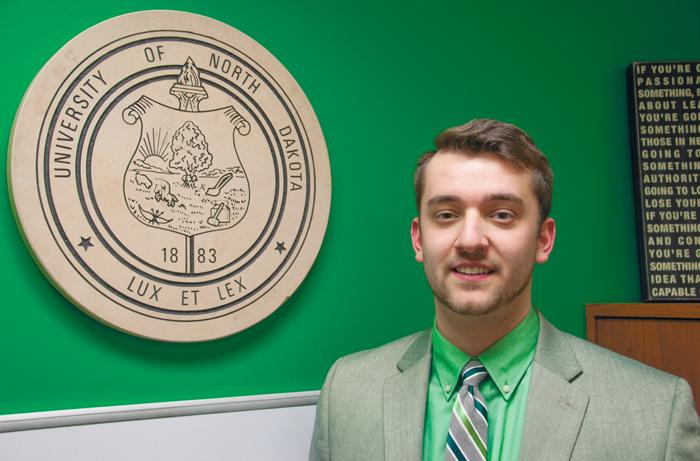 Daniel Yun
In preparation for student elections on April 12, the Dakota Student is sitting down with candidates for Student Body President to talk about their backgrounds, motivations and platforms. Featured in this issue: Blake Andert.
This will be the last profile in the Dakota Student's series on presidential candidates for the April 12 Student Government elections.
Blake Andert, Junior in the UND Business School and current Vice President of the student body, has been involved in student government for three years as the Student Organization Funding Agency (SOFA) chair and executive chief of staff.
One of his main goals is "to increase third party business presence on campus." He would like to not only invite more commercial eateries and retailers onto campus, which he says President Kennedy is more open to than past administrators, but also strengthen ties between local businesses and the school to create more opportunities for student internships. This would also support "a good relationship with the city of Grand Forks," which he sees as currently lacking.
Andert would like to build a peer mentoring program through student government that would assign freshman students to an upperclassmen advisor. "It's a lot easier to talk to a college student (than a traditional academic advisor)," he said.
Education is a focus of his campaign. He says his past work with the Open Educational Resources (OER) movement helped to save students an estimated two million dollars last fall. OER incentivizes faculty to write free textbook content available online for use. Andert says this would continue to be a focus of his as president.
He would also like to ensure technology fees already paid by students are going toward technology "integrated right into the classroom," rather than into facilities like computer labs that Andert sees as outdated. In response to the university's recent budget cuts, Andert says that student government can "only work as hard as (they) can to mitigate how these cuts are felt."
Andert's goal as president is to be an "advocate for all students" and "increase unity between the student body." He proposes a "One UND March," which would focus on a variety of student organizations, celebrating both unity and diversity at UND.
Andert states that his extensive experience in student government has prepared him better for this position than his fellow candidates. "There is a learning curve—there's processes and bureaucracies to figure out" he says.
Diane Newberry is a staff writer for the Dakota Student. She can be reached at [email protected]