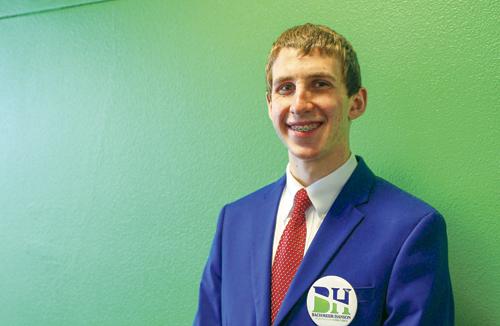 Daniel Yun
In preparation for student elections on April 12, the Dakota Student is sitting down with candidates for Student Body President to talk about their backgrounds, motivations and platforms. Featured in this issue: Cole Bachmeier.
Chemical engineering major and junior Cole Bachmeier has been involved with student government for three years, first as a Student Organization Funding Agency (SOFA) liaison, then as a Residence Hall Senator, and is the current Chief of Staff for the executive team.
In his view, student government's biggest problem is a lack of diversity. Though he is the president of the Phi Delta Theta fraternity, Bachmeier sees it as problematic that the current student Senate is a "very heavily Greek dominated organization."
He estimates that "85 percent to 90 percent" of the Senate is involved in the Greek community. Bachmeier states that he wants to get a greater cross section of the student body into student government because he feels that currently, "everyone has the same thought process."
Bachmeier and his running mate, Erik Hanson, have made it a point of their campaign to reach out to diverse groups across campus.
Bachmeier sees an increasing "disconnect between student government and students." He feels that the main reason for this is a lack of channels for students to give feedback. He cites an old practice, "Tuesday 2's" as inspiration for practices he would like to implement as president.
In the past, students would be presented weekly with two important student government issues and asked to choose one of two positions on the subject. Bachmeier thinks that having hard data on what students want is crucial to the duties of student government officers.
Bachmeier uses the term "motivator in chief" to describe the main responsibility of the president. He feels this is especially important during this point in UND's history, when the university is struggling to find an identity.
"I want to enable other students to affect change," Bachmeier said. "It's the difference between two people getting things done versus 25 people getting things done."
Education of the student body on the issues is paramount to Bachmeier, especially on budgetary concerns and campus projects.
Bachmeier sees his non-political science background as a plus. As a STEM major, and active participant of multiple campus organizations, he thinks that he brings a fresh and unique perspective to student government. For him, investment in the school is a hobby and passion, separate from his academic work.
"It's something I want to do rather than something I have to do," Bachmeier said.
Presidential candidate profiles will continue in the next issue of the Dakota Student.
Diane Newberry is a staff writer for The Dakota Student. She can be reached at [email protected]